Hone Quarry 40 Miler
Overview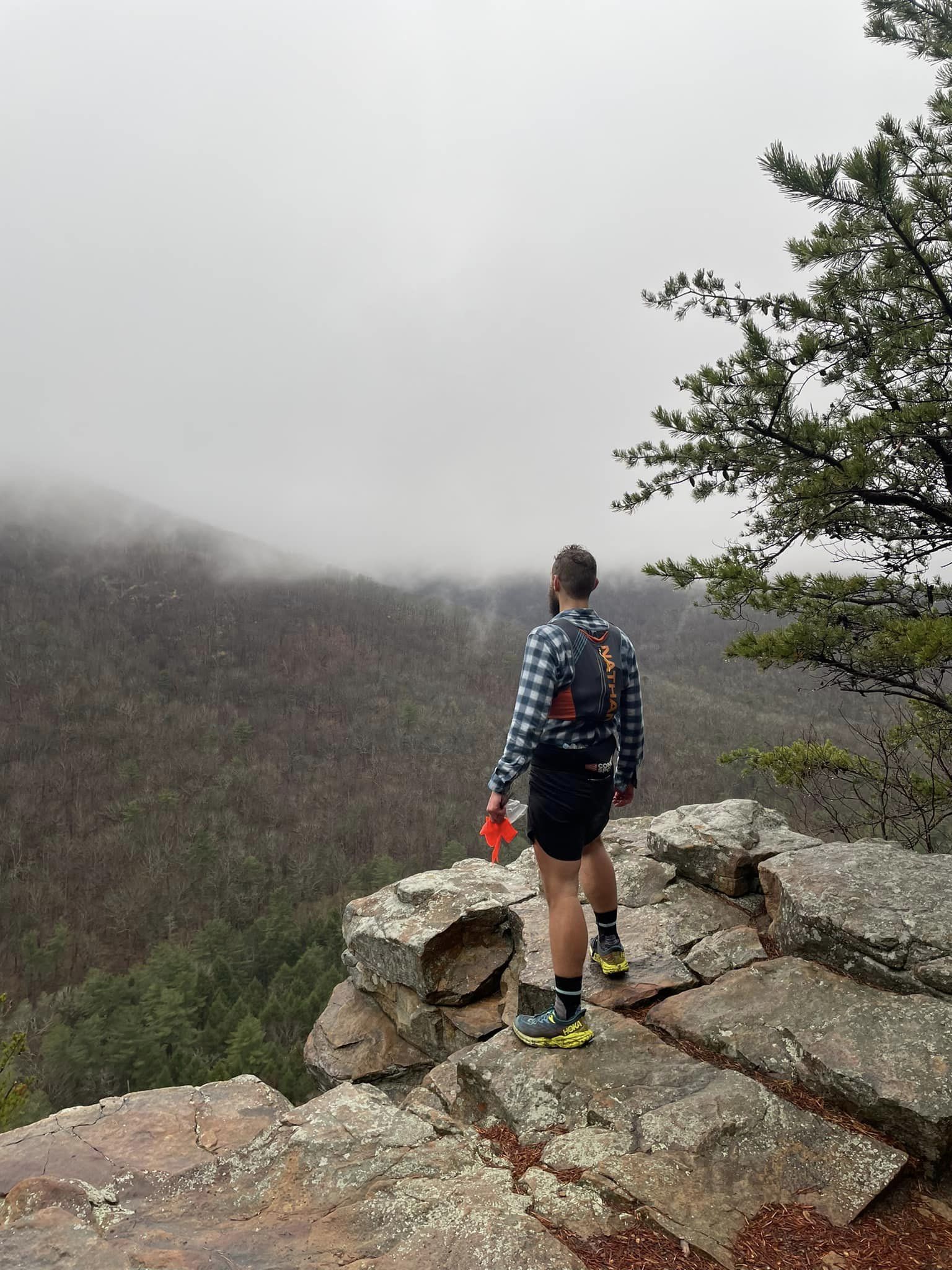 The Hone Quarry 40 Miler is a trail endurance race that begins and ends at Briery Branch in the scenic Shenandoah Valley. After entering the George Washington National Forest, the course winds its way through the mountains surrounding the Hone Quarry Recreational Area.
The course is a large loop with a few out and back sections. Runners will climb and descend several mountain ridges, all while experiencing the area's amazing natural landmarks. Course highlights include the Hidden Rocks trail, "Lover's Leap" overlook, a 15' waterfall, and Flagpole Knob -- which showcases a commanding view of the valley below.
Although there is a 13.5 hour cutoff time, we caution not to underestimate the course. This is a technical mountain race with ~8000' of elevation gain and feels comparable to running a 50 miler. While there many runable sections (particularly the first and last 3 miles on roads), several steep climbs and technical descents make this race one of the more difficult 40 milers in the east.
Race Schedule
Saturday, March 23, 2024
5:45 - 6:30 am: Drop Bag(s) Drop Off, Mandatory Check-In, and Packet Pick-up
6:45 am: Race Start
8:15 pm: Final cut-off for all runners (13 hrs 30 min)
Drop Bags, Pacers & Crew
Drop bags will be allowed at Union Springs (mile 12.7), HQ (mile 19.5), and Big Hollow (mile 28.4). Drop bags must be clearly labeled with the runner's bib number, name, and most importantly the aid station name!
Due to the remote nature of this course, crews and pacers will not be allowed.
---
Start/Finish Location
Start/Finish will be located at the Briery Branch Church. Parking will be at the activity building beside the church. Restroom facilities will be available for use.
Address: 6494 Daniel Cupp Rd, Dayton, VA 22821
FAQs
Can I have a pacer and crew?
No. Most of the aid stations are fairly remote or have limited parking. Due to these concerns, as well as the safety of participants who will be running on some of the access roads, crews and pacers will not be allowed. Drop bags will be permitted at certain locations (see chart on Course Info page).
Can I leave my car at the start during the race?
Yes! The start and finish line are at the same location -- the Briery Branch Church. We have been given permission to use their parking area for the duration of the race.
Can I have trecking poles?
Yes, they are definitely allowed. In fact if you like using them for steep or technical terrain, this is probably the race to pull them out. If you didn't want to carry them the entire way, then you could drop them off at the mile 28.4 drop bag, which would cover the three largest climbs.
Are there any restrooms on the course?
Yes! In addition to the facilities in the start/finish church building, there is a restroom available for participant just before the Campground aid station (mile 36).
Does this race have water crossings?
Yes, several. Depending on rainfall the crossings could be very high or low. Be prepared to get your feet wet!
If I reach the finish line but miss the final cutoff, will I still receive a finisher's award?
Yes, if you meet all aid station deadlines, but miss the final cutoff, you will still get an award upon crossing the finish line! However, you will receive a "DNF" as your official race result on ultrasignup.
Do you offer refunds?
All event registrations are non-refundable. However, registrants who are unable to participate in the event for which they have registered may transfer their registration to another runner. Prior to January 15, 2024, registrants also have the option to contact the race to request a 1 year deferral into the following year's Hone Quarry 40 Miler. Max 1 year deferral.